Australian Ch Charmhill Callin The Shots
'Shooter'
W. 05/05/2017 .
Sire . Gr Ch Hartly How About Me .( Cea Carrier, Genetically Clear for DM , MDR1 ,VW3 )
Dam . Charmhill Carlotta ( Genetically Clear CEA Ch , DM, VW3, Carrier MDR1)
17 months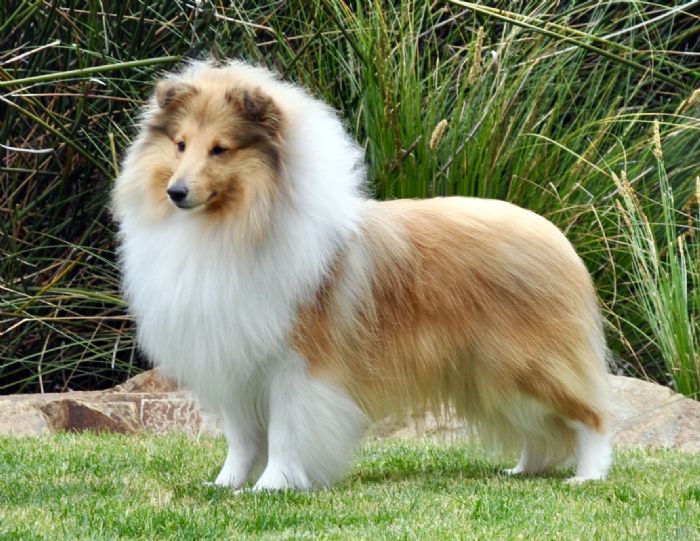 4 months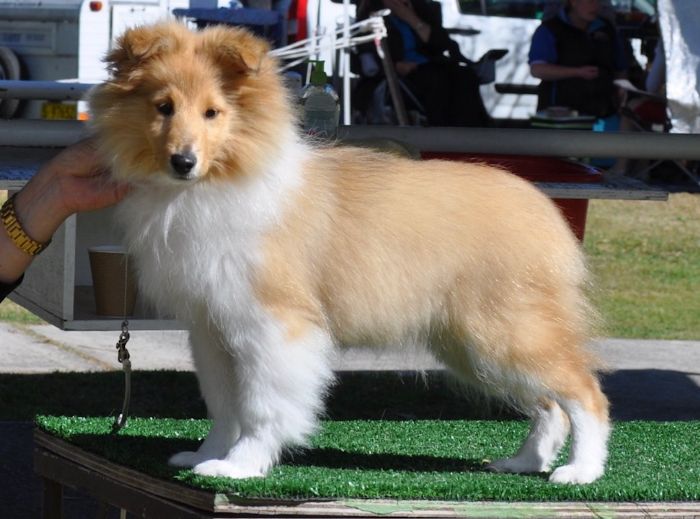 4mths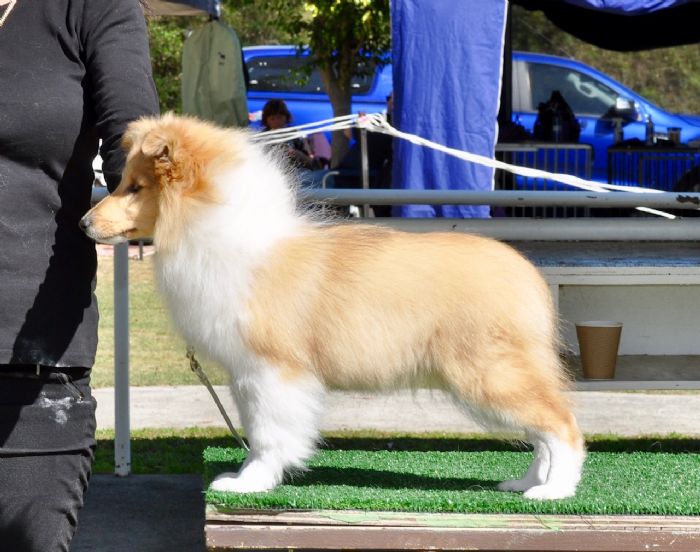 13 weeks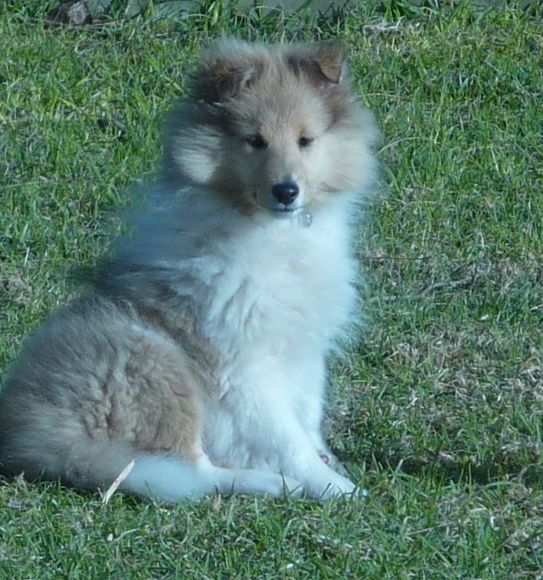 Aged 6 weeks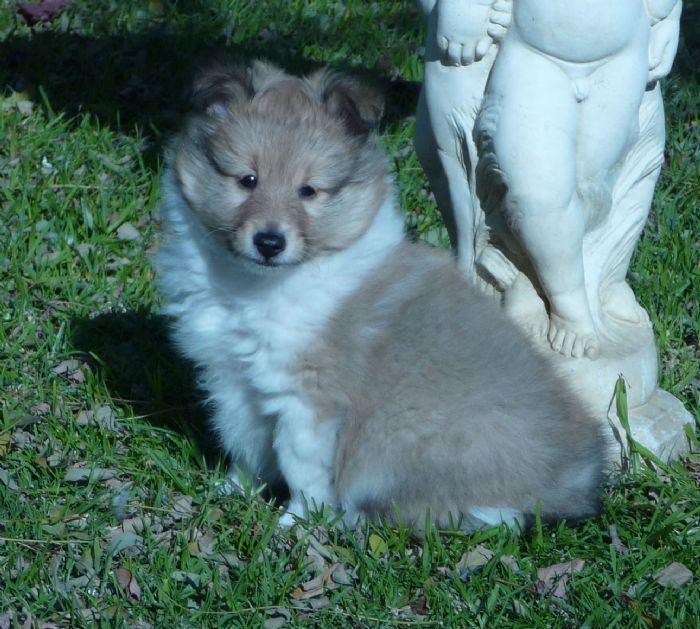 'Shooter' is a special boy and has lived up to his early potential .
'Shooter' is golden/red sable with abundant coat that fits his body beautifully .
He has a lovely easy going nature , happy to please everyone . At home he is the goof ball of the yard .
At 15 inches in height , he's a masculine boy has a sweet almond eye and level head planes . Very happy with his overall structure , with level topline ( hard to see in all that coat at times ) well arched neck , depth of Chest with correct lay of shoulder and legs under the body .
In 2017 Shooter shined in the show ring as a Baby Puppy he amassed 5 Baby In Group and also 5 Baby In Show awards with one being a Sheltie Speciality win at just 5 months of age .
At 10 months he was BIS at SSCV Open Show under breed specialist Lisa Berrill .
In July 2018 ***** Shooter ****** was Awarded Junior in Show at the Shetland Sheepdog National held in WA
under Breed Specialist Monica Monlock (Sweden) .
Critique
'A sable boy of excellent type with a wonderful expression, very sweet eyes and very nice ear set, well placed stop, well rounded muzzle and correct bite. Excellent neck and topline, well carried tail. Nice bones. Excellent angulations in front and behind. Beautiful coat and colour. He moves with an excellent drive. Very well handled. Excellent temperament and attitude.'
November 2018 at SSCV 60Th Championship Show under Breed Specalist Jo Hardy of Sandwich kennels UK he was 3rd in a strong Junior class .
Critique
'Another Quality young man with really handsome and masculine expression , just short of 18 months of age . Dark eye enhanced by excellent pigmentation gives such appeal . Needs to clear in stop and ears are set a touch wider but his head is quality and of a good length with flat skull and well defined underjaw. Excels in reach of neck with excellent shoulder and lenght of upper arm . Slighly longer cast in body preportions compared to the first two and will insist on standing tucked up a touch at the rear . Coat is of pleasing texture and an attractive pale red gold . Quality boy and its easy to see why he holds his title already . '
Many Thanks to his handler Nicole Pearson for promiting this young man and also Eryn Finlay and Lyn Pearson who handling him when Nicole was unable .
Hip Scored at 2 years 2 months of Age .
Grade A Score 3/2
Shooter has Full Dentition and is White Factored.
Shooter is now retired and enjoying life with Barbara and Wayne .
Shooters DNA results

DNA: Carrier CEA/CH

DNA: Genetically Clear MDR1 ( Multi Drug Resistence )

DNA .Genetically Clear Degenerative Myelopathy

DNA .Genetically Clear Von Willerbrands Disease type 3
DNA . Genetically Clear GBM - Gall Bladder Mucocele


Ophthalmologist Eye CEA tested (Normal) unaffected
Ophthalmologist Eye Coloboma tested (Normal) unaffected .
Sire :

Gr Ch Hartly How About Me .

CEA Carrier, Genetically Clear DM,VW3 ,MDR1)

S: Gr Ch Louanda What About Me

( Genetically Clear CEA )

S: Sup Ch Eng Ch Rannerdale The Time Warp

( Imp uk )

D: Louanda Simply Unforgetable

D: Lyndream Words That Impress

Cea Carrier, Genentically Clear , DM,MDR1 and VW3

S: Ch Louanda Out To Impress

Genetically Clear CEA .)

D: Nigma Elle

Dam :

Charmhill Carlotta

Genetlcally Clear CEA , MDRI Carrier)

S: Ch Charmhill The Chaser

Genetically Clear CEA . MDR1 Carrier

S: Ch Limbunya Storm Chaser

CEA Unaffected

D: Meega moonlite Amber

CEA unaffected

D: Shelbourne Image Maker

Cea Carrier .MDR1 Gen Clear

S: Ch Louanda Out To Impress

Genetically Clear CEA

D: Ch Nigma Chablis

Cea unaffected
Contact Details
Christine Klempel
Melbourne, VIC, Australia
Phone : 03 9743 4404
Email :
[email protected]